We're in Texas - Day 2
we leave Pearsall and travel to Laredo

March, 2006
We started our day, same as every day - L slept in and D went to McDonalds and had breakfast, bringing back coffee for the slug-a-bed.


Then we were off to Laredo. I always wanted to walk "the streets of Laredo" (at least ever since I heard the Smother's Brother's song - I would be delighted to sing it for you when I see you..... Just ask.

We drove past mile after mile of fenced ranches. Most had elaborate gates at their main entrance.
We also passed a prison area.

Well, Laredo has a population of over 100 thousand. Hardly the cow-town I expected, so we headed out of town, finding a charming State Park.
We weren't exactly sure what PULIC recreation is, but we were surprised that no one had altered the spelling!
At our picnic lunch we enjoyed the birds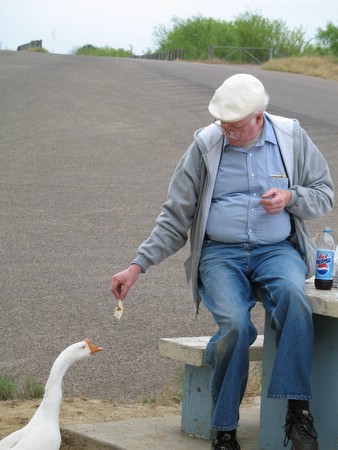 , including this one who reminded us of "Little Buddy", a goose we had years ago.

We got our first sight of the Rio Grande.
We saw lots of border control vehicles, planes, helicopters, but no "wetbacks".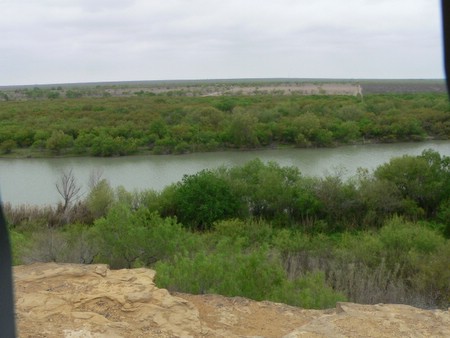 There is a lot of prickly pear cactus. Much starting to bloom. We later learned that the small protrusions are edible and are usually fried or steamed, and served for breakfast with eggs or at lunch or dinner as a vegetable with butter, salt, pepper.
We stopped in a tiny town, San Ygnazio. This was the original building, which also functioned as a fort. Note the cactus growing on the tin roof near the chimney.
We ended the day in a small motel. Lovely flowers.
e-mail us here.
Here's a link to all the rest of the grandkids' pages.
Published 3/15/06
Photos by Leslie or David

Send comments, please. We love to hear from folks.