We're in Texas
And there are lots of critters!


March, 2006
We hoped to see birds and critters that are different from our at-home ones.
We have not been disappointed.
We don't know the names of all of them, so let us know if you do.

These goldfish are in the pond at the McNay Museum.

  From Anna comes more information about these fish:  "I know the fish are
not goldfish.  If you look carefully, you will see little barbels on the
mouths.  Also, the pectoral fins stick out sideways.  The dorsal fin is
long down the spine, and close to the body.  That tells you that these
fish are Koi.  Goldfish don't have mouth barbels, their pectoral fins
are more filmy and hang down, and the dorsal fins are softer and not
attached for such a large proportion of the spine.  Both goldfish and
Koi are carp, but they are different species from different parts of
Asia.  Goldfish can grow fairly large, but they don't do it at anywhere
near the speed with which Koi do.  At the end of three years after
purchase at a size of 4", a goldfish may be 8 or 10 inches long, but a
Koi may be easily 18 to 24 inches long, with an enormously large mouth
and appetite.  You can teach them to feed from your hands and they will
actually suck on your fingers, like a baby, which is a very weird
feeling indeed!"

This is our favorite shot of the great-tailed grackle.
There are many, many, many of them. They have quite a varied bunch of songs.
The body is robin-sized, and the tail is huge - hence the name.


The brown pelican has made a comeback. They are huge birds!.

We never saw an ocelot (just the ocelot crossing signs), but we may have found signs of its presence.

The indigo snake is a constrictor who eats rattlesnakes and small mammals.

We saw quite a few butterflies.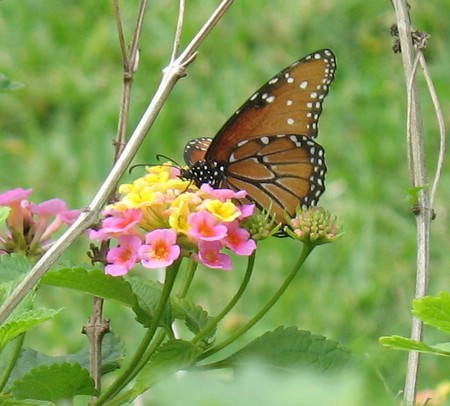 Don't know what this bird is. Very pretty.
This little lizard posed for quite a while before scurrying off.
We have no idea what this is. It's about 8 inches long - some kind of jellyfish.
And there were doves.
e-mail us here.
Here's a link to all the rest of the grandkids' pages.
Published 3/15/06
Photos by Leslie or David

Send comments, please. We love to hear from folks.
It was fun to create this map. Red indicates states Leslie has at least driven through.

I

create your own visited states map or check out these Google Hacks.