Blooming Bread

Wendy introduced me to a website where you can waste an extraordinary amount of time.
Pinterest
This is a site where people "pin" their favorite things,
including fashion, home decor, quotes, and my favorite - recipes.
There was a recipe taking inspiration from Blooming Onions, from Outback®
But it is made with bread, cheese, and flavorings.
I made many adaptations.
I began by making
No-Knead
Bread from the NY Times recipe.
It makes a 1.5 pound loaf.
You need a hearty, firm bread. I suppose any sourdough or artisinal bread would work.
Then it needs to be sliced into squares.
An electric knife helps here.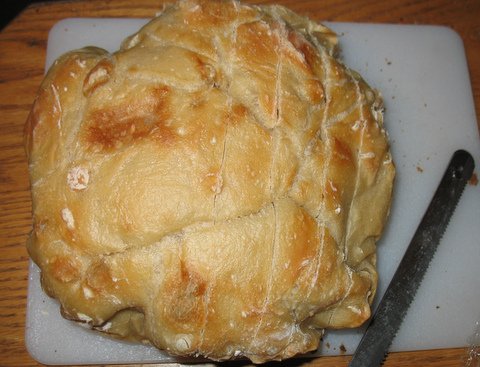 I sliced one way.
Then I spread the bread with a mixture of
mayo, green onions, herbs, pepper, garlic.
Next comes cheese - I used a mild provolone.
But any cheddar or Monterey Jack would do.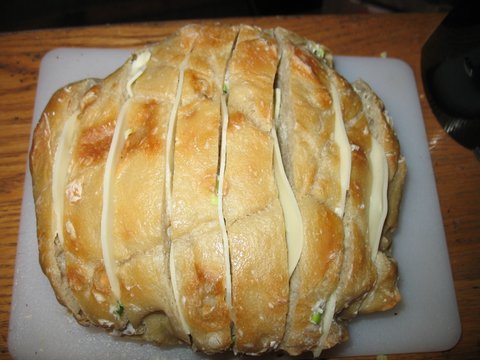 After inserting those,
cut the opposite way.
It's a bit of a challenge holding it together while you cut.
Again, the electric knife helps.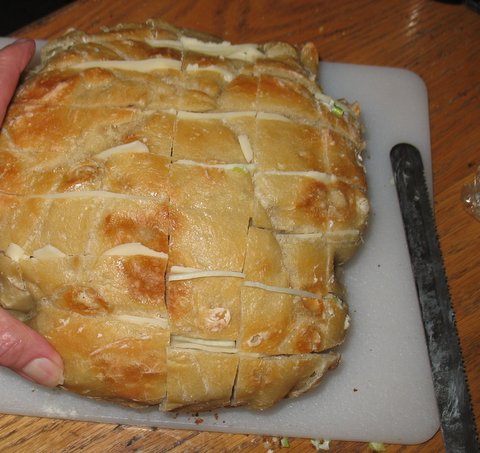 The next step is putting the sauce and cheese in the other direction.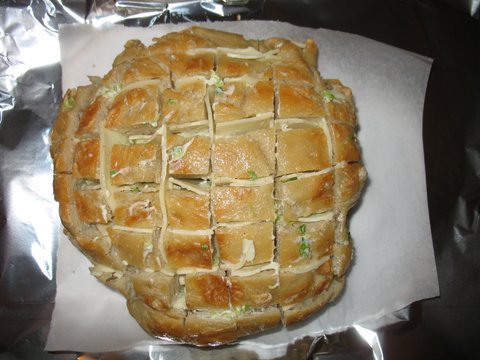 Put it on parchment on foil.
Wrap with foil
Bake 15 minutes at 350 degrees.
Then open it for 10 minutes at 350 degrees to crisp the top.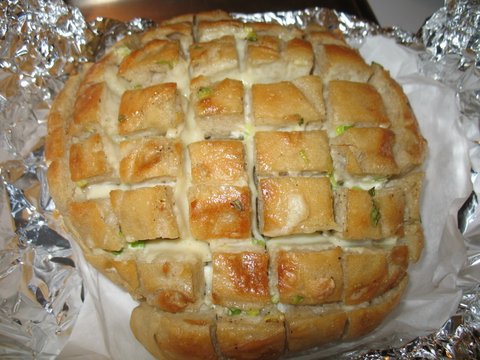 It's a pull-apart bread.
Several friends get together for dinner each month..
They are all good cooks, and each dish-to-pass is excellent.
There were 8 of us last night.
There was none left over!
'Nuff said.
email
comments. We love to hear from folks.